Bluebloqs makes your project climate resilient
As a municipality, it is becoming increasingly important to respond to climate change. Extreme drought and heavy rainfall are causing many problems in the existing city: your parks and green are becoming dry and the sewer system cannot cope with peak rainfall. That's not pleasant for residents, and the replacement and damage costs increase every year.
With increasing population growth, urban space is becoming increasingly scarce and the need for water is increasing. With Bluebloqs you find a solution to these problems: by storing rainwater where it falls, you have enough water available in times of drought.
How does it look like?
The largest part of our system is located underground, making minimal impact on your existing city. And the visible part? We make it as beautiful as we can.
Bluebloqs exists of big beautiful plants. This way you are adding green to your project. It's also possible to add seating elements around. By making water visible, you create awareness among inhabitants about the value of water. Nice bonus, right?
DECENTRALISED
Make your project climate resilient by not discharging rainwater, but to store it for later use. This way you have sufficient water in dry periods.
FLEXIBLE
Bluebloqs takes little above ground space. Our systems are flexible and can be adjusted to the available space. Would you like a rectangular , or do you prefer a round shape? Bluebloqs can be tailored to your needs.
FLORA AND FAUNA
A big part of Bluebloqs exists of plants. Lythrum and watermint have a strong scent, which attracts butterflies and bees. Would you have thought that a water treatment system can increase biodiversity?!
Adding discharge capacity
Do you suffer from flooding? That leads to water nuisance. By combining our rain gardens with deep infiltration, you create extra discharge capacity with a continuous flow. This way everyone keeps their feet dry.
Preventing land subsidence
Subsidence involves high costs. Bluebloqs keeps groundwater levels stable, keeping your public space and infrastructure, including the underground, in stable condition at dry periods.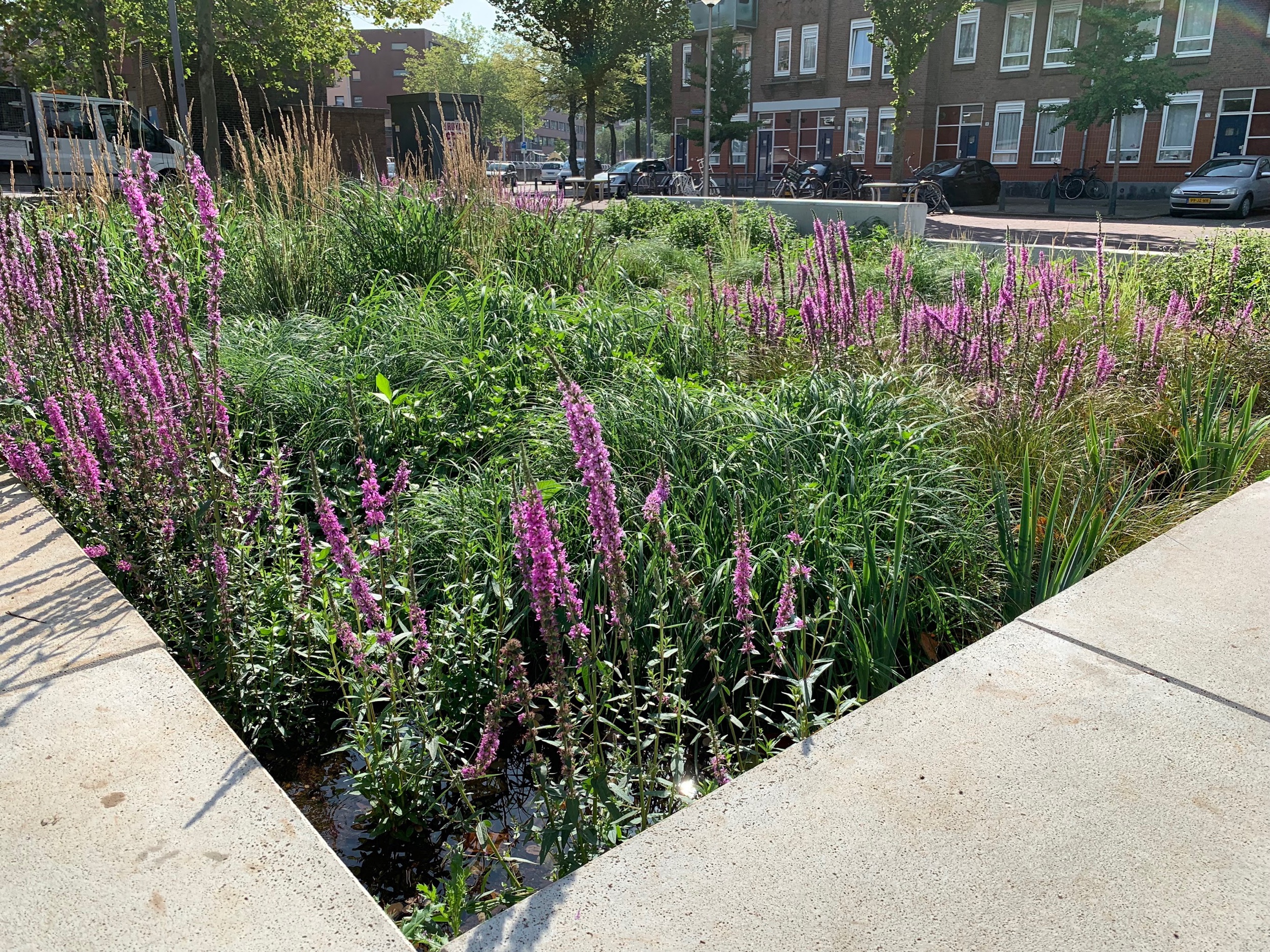 Reducing heat stress
Due to climate change, heat waves are becoming more regular. Bluebloqs creates an automatic water flow which irrigates the green. And that ensures a pleasant microclimate.
preventing salinisation
Our aquifers become more salty due to over-consumption, but we can limit that. With Bluebloqs you can infiltrate more water every year than you use. This way you sweeten the ever-changing subsoil.
calculation example
You want to disconnect 5 ha and you want to add 1 ha of green. What are the attention points?
- the greenery soon has a water use of 7,000 m3 / year
- with a 15 mm buffer you can collect 95% of the annual rainfall
- storage facilities can easily be expanded with our system
Your system will look like this:
1) Retention: 600 m3
2) Treatment: 70 m2 biofilter
3) Storage: 1 well with 500 m3 / day
4) Use: >10.000 m3 / year for irrigation
Impact: having an independent, sustainable water source and keeping your ground water levels stable.
Do you have a large parking lot, or are you working on designing a nice square? These are ideal places to fit Bluebloqs.
Want to be outstanding as municipality with the reuse of rainwater?
We would like to think along with you in an introductory meeting, no obligations.

Take a look at the projects we work on for the municipality of Rotterdam